Any idea or suggestion?
Thu Sep 05, 2013 1:15 am by Helas007
I am Helas, I don't know is this is a correct place to post my question here.
I am in Ontario, Canada and living here in a rental apartment. I am looking for a good place to build my new home. If anyone here from Canada please give me any suggestion. Thanks.
Home Builders in Brisbane
Comments: 0
My Little Intro.
Tue Aug 20, 2013 2:38 pm by Helas007
Hello to all,
         I'm new here at this community. I learned about this from a friend. I think I needed to let out my feelings and I hope a lot here can help me out so I joined this community. I hope it will be nice to meet you all. Thanks.
Comments: 0
Death of MSCA???
Fri Dec 28, 2012 4:35 am by MrBrewskee
Good day friends this is your ever loving Mr.Brewskee. The end of the year is drawing to a close.


I have heard rumors that myspace is rolling out with a new format and myspace castle age may die as a result. Most members already know of the lack of support from phoenix age to update code and add new content.


I really think this might be the end of MSCA. If thats the case …
Comments: 2
Magical Monster List site Down?
Sat Jun 16, 2012 4:19 am by The Sandmann
Does anyone know if we have an alternate Magical Monster list? When I access the multi-url Magical Monster list I get the "account has been suspended" page. If someone has suggestions I am all ears, I dont want to start any monsters if I cant list them.
Comments: 7
Greetings VK
Tue Aug 16, 2011 7:19 am by kobo
Kobo here, moving in. G'day DoR, VK and everyone! You can come back and play it now

I need to get an add link sorted. I'll have a read around and see what info I can pick up. I do have the links from DoR's sig on the other forums. If there's anything I need to know please hook me up with a link etc.
Cheers.
Comments: 3
Slow Kills
Tue Feb 28, 2012 8:28 pm by The Great Rider
hey folks I'd like to slow kill Matthew's War of the Red Plains. can you remove the click link plz so I can get more dmg in
Comments: 3
So I just started a CA account of Facebook...
Sun Feb 27, 2011 10:48 pm by Castel
just to kill time while my main toon's on MSpace take time to reload on stamina and energy.
Those bastards have greater content, easier gifting(and more of them), the gobbo emporium and other general guffery.
Still, I like the M_ one better for some reason, most likely due to the VK community.
Do any other VK'ers have accounts over there? I could not find any VK group. If I got any interest for …
Comments: 13
hall of stupid questions.
Thu Oct 07, 2010 2:55 am by grim29
where do i find zarevok's sword?
do you get battle points from raids?
anyone else feel free to ask questions. and thank you before hand to those that answer our questions.
Comments: 79
cant access MOB lists
Sat Dec 03, 2011 9:00 am by bogrog
You don't have permission to access /l/29H on this server.
Additionally, a 403 Forbidden error was encountered while trying to use an ErrorDocument to handle the request.
Comments: 1

In here we tip our hat, or just simply provide for a spot to brag about the "Best Yet" achievements of our members. Showing the rest of us how it should be done is Hera with her total from a recent Azrael.

Mikel

VK-Lord





Posts

: 68


Join date

: 2010-07-26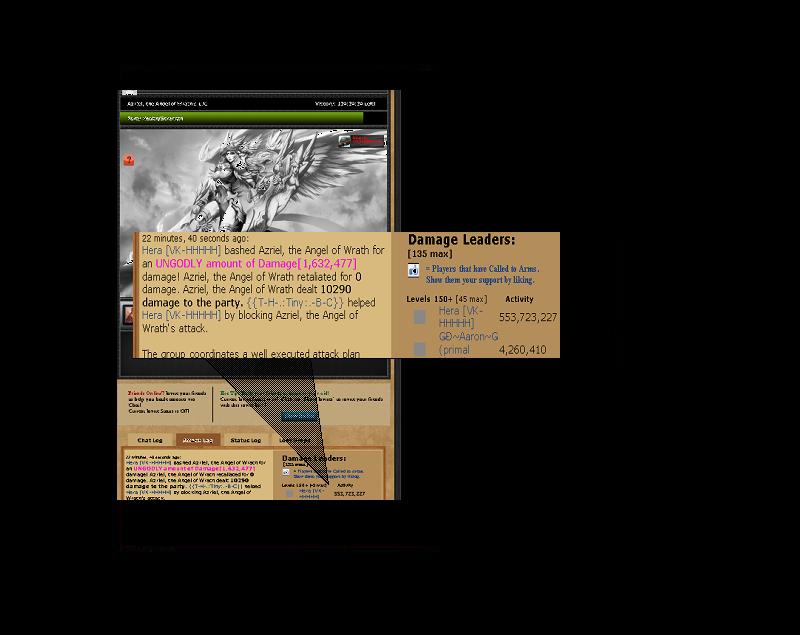 Last edited by Mikel on Sun Nov 21, 2010 11:46 pm; edited 3 times in total (Reason for editing : hmm, this sucks, lets see if I can't do this up a little better)

Mikel

VK-Lord





Posts

: 68


Join date

: 2010-07-26



what should my stats look like to get that kind of damage?

northhigh916

VK-Knight





Posts

: 53


Join date

: 2010-08-04


Age

: 27


Location

: North Highland$



northhigh916 wrote:what should my stats look like to get that kind of damage?
It's more a matter of what your bank account should look like!

She topped her 200million number from just the other day. Wow.

_________________

wow! bravo! without a crit i only do 10% of that per attack.
that is just insane and i thought i was doing good getting up to around 7mil on the last azriel i was on man i got along way to go lol

dark hunter

VK-Knight





Posts

: 21


Join date

: 2010-09-10


Age

: 34


Location

: louisiana




Mikel

VK-Lord





Posts

: 68


Join date

: 2010-07-26



Those posts are great for monster hunters. Any for PvPers?

Ric

Trinity

VK-Warlord





Posts

: 165


Join date

: 2010-09-22



that is insane, can't wait til i can solo a class monster.
VK MegaDAve just did over 100,000,000 damage saving an AB battle. Surely that is outside the norm and worthy of note. I'm not sure how to do it though.

Trinity

VK-Warlord





Posts

: 165


Join date

: 2010-09-22




---
Permissions in this forum:
You
cannot
reply to topics in this forum